Page last updated on March 25, 2022 at 9:53 am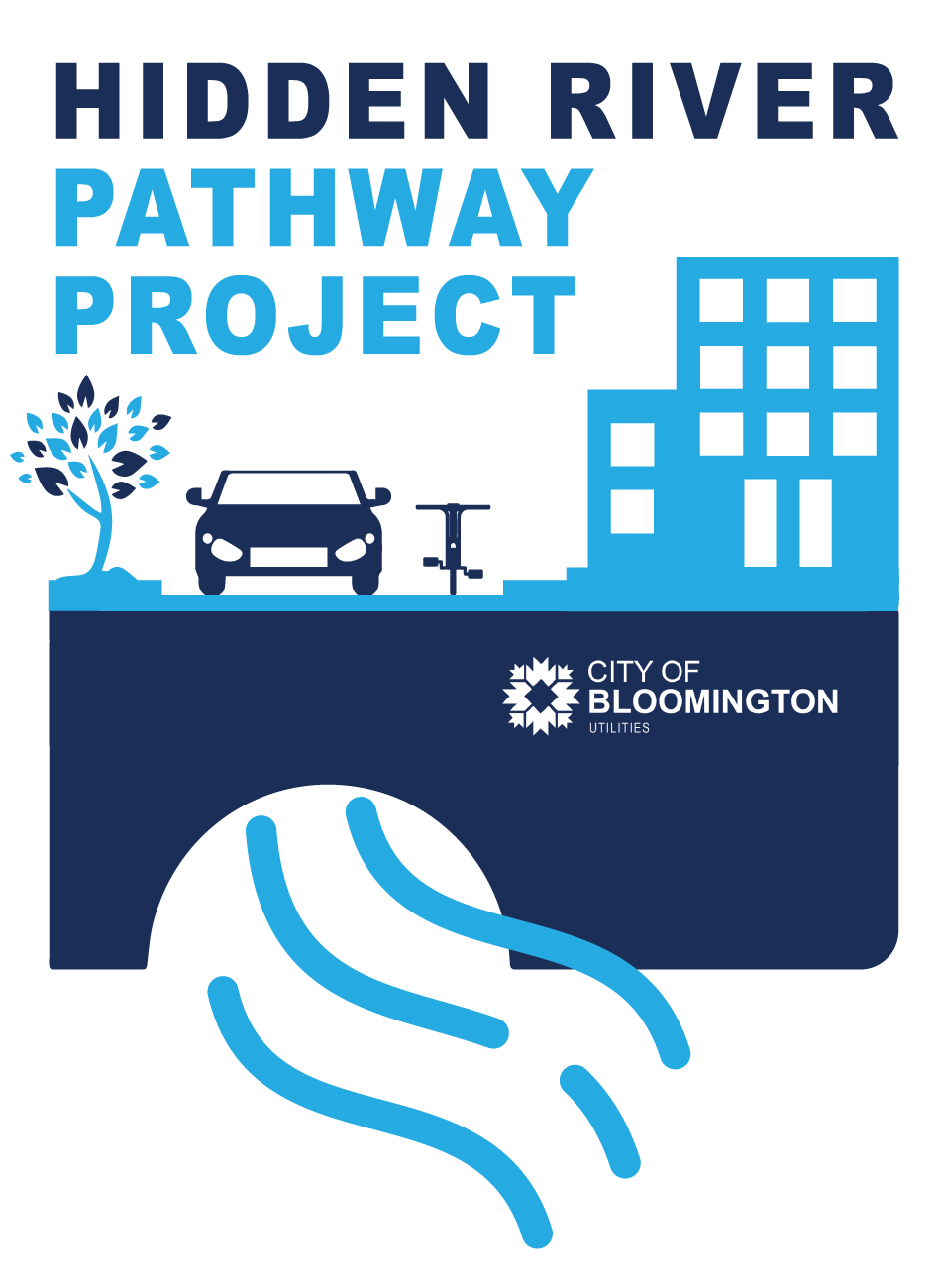 What is the Hidden River Pathway Project?
Did you know there is a river under downtown Bloomington? Miles of culverts under downtown Bloomington carry the Campus River (formerly Jordan River) from Dunn Meadow at Indiana Avenue to 1st Street and College Avenue, where it reappears as Clear Creek (see map). In mid-February 2021, the City of Bloomington Utilities (CBU) launches a two-year reconstruction project of the downtown stormwater infrastructure that prevents flooding during rain events. CBU and its contractor, Milestone Contractors, LLP will be reconstructing 1,829 feet of culverts, along with some sanitary sewers and water mains to support Bloomington's vibrant downtown. 
The current culverts will be replaced with 5'x20'-24' four-sided concrete box culverts at more consistent slopes to help move water effectively (improve hydraulic efficiency). The new design also moves the water out from under four buildings (two residential and two commercial) that were built over sections of the existing infrastructure.
Who is responsible for the Hidden River Pathway project? 
CBU is working with contractors to complete the current project (highlighted in red on map) which runs from 423 S Washington to 113 N Grant. Donohue & Associates, Inc designed the new infrastructure and in January, Milestone Contractors, LP was awarded the contract for construction. The project requires a substantial amount of private utility relocation and AT&T, Duke, Vectren, and Comcast are working with CBU. 
Opportunities for additional improvements to be undertaken simultaneously by other City departments were identified during the design phase of this project. The Departments of Public Works and Engineering will replace the traffic signal at 3rd & Lincoln, as well as street parking updates. Bloomington Parks and Recreation will enhance the playground at Waldron, Hill and Buskirk (Third Street) Park, and the City's Economic and Sustainable Development Department is exploring the development of public art components that will increase awareness of the underground river, our natural resources, and Bloomington's long-term sustainability.
What is the timeline? 
The construction contract provides two years to achieve Substantial Completion. Work is slated to begin at the downstream connection to the existing culvert on Washington Street between Smith Avenue & 2nd Street on February 15 and will require a section of Washington Street to be closed for approximately two months. From there, work will continue at various locations along the route highlighted in red on the map. 
Why is CBU undertaking the Hidden River Pathway project?
The culverts that currently carry stormwater beneath Bloomington's downtown are some of the oldest storm sewers in the city; some masonry arches date to 1900. CBU has already repaired much stormwater infrastructure under downtown Bloomington in the past 20 years. This phase of the reconstruction is essential to prevent flooding and potential structural failures, such as the culvert underneath the intersection at 3rd & Lincoln, which required an emergency repair in 2017. The current infrastructure is inadequate for the volume of stormwater downtown Bloomington now experiences--a result of increased impervious surface area and the intensified rain events associated with climate change. The new culverts will have twice the capacity of those they are replacing and incorporate best practices in the stormwater industry. CBU's stormwater management plan encompasses a $400,000 annual investment in green infrastructure (including bioswales, permeable pavement, and related landscaping approaches) in addition to traditional infrastructure construction.
How much does it cost? 
The construction cost is expected to be just over $13,000,000. Funding comes from the 2019 Stormwater fee increase for all CBU customers. 
Where is the Hidden River Pathway project? 
Reconstruction of upstream and downstream sections has already been accomplished. The current project completes the middle section, which runs from 423 South Washington Street, east of Middle Way House, across Smith Avenue, through the Waldron, Hill and Buskirk (Third Street) Park and along Lincoln Street, across 3rd Street, curving east behind the Bloomington Fire Station No. 1, across 4th St, through the surface parking lot at 4th & Grant and ending in the alley north of 113 South Grant Street (see map).
How will the Hidden River Pathway project construction affect the public?
In order to expedite the project schedule, the contractor will deploy crews in multiple work zones simultaneously, which may require the closure of one or both lanes in different blocks. CBU and the contractor have been working closely with impacted businesses and service providers along the construction route to ensure access to facilities and prepare for parking needs. Bloomington Transit buses will be able to operate on their regular schedules. CBU has also coordinated with the police and fire departments to ensure unimpeded delivery of public safety services as construction progresses around the stations. Those residences and businesses getting new water or sanitary sewer lines may have service disruptions lasting up to several hours on the days of connection. CBU will contact those customers directly to schedule the work.
The playground, park benches, and picnic tables along Lincoln St in the Waldron, Hill and Buskirk (Third Street) Park will be removed in February to allow for project construction. All will all be replaced once the underground infrastructure in the area is in place. Five trees of varying sizes will be removed from the east side of the park. Parking will be limited in the small lot behind the Allison-Jukebox Community Center.
How can I find out more and see updates? 
See the latest information here or Facebook, Twitter, and Nextdoor.      
Please contact CBU at our 24-hour number if you have any questions or concerns! 812-339-1444.