Common Council
As the legislative body of the City, the Common Council, often referred to as the City Council, is a link between the citizens of Bloomington and their government. By enacting legislation that fosters the health, safety, and welfare of the City, the Council works to represent the interests of residents while ensuring the delivery of municipal services. By statute, the Council is responsible for the control of the City's property and finances, and the appropriation of money (Indiana Code § 36‐4‐6‐18).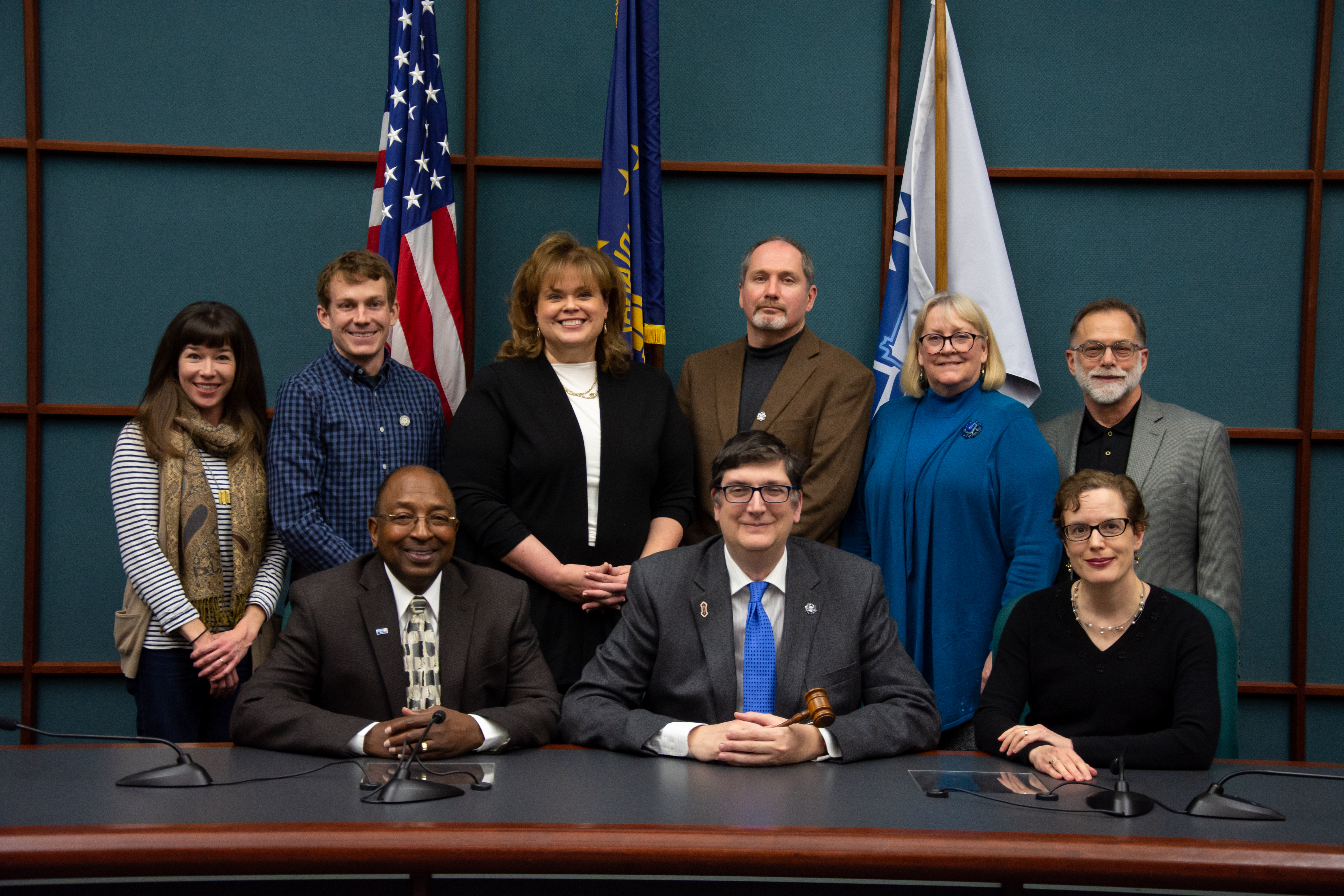 Councilmembers

Learn more about Councilmembers, including biographies and contact information.

Front row, Left to Right:

Jim Sims (Council President and At-Large Representative)

Stephen Volan (District VI Representative)

Isabel Piedmont-Smith (District V Representative)

Back row, Left to Right:

Kate Rosenbarger (District I Representative)

Matt Flaherty (Parliamentarian and At-Large Representative)

Sue Sgambelluri (Council Vice President and District II Representative)

Dave Rollo (District IV Representative)

Susan Sandberg (At-Large Representative)

Ron Smith (District III Representative)
Find your Council Representative
Six Councilmembers represent individual City districts and three represent the City At-Large. To find out which Council district you are in, consult the City Council District Interactive Map or use the myBloomington address search to find all sorts of information about the area in which you live. Downloadable maps are available in the Council District Map Gallery.
Upcoming Council Meetings
October 22, 2021 - Work Session at 12:00 pm
Accessible via Zoom: https://bloomington.zoom.us/j/88334968726?pwd=MTdvTUtHREo0YnZvZnRVM0J2QzMxdz09
October 27, 2021 - Special Session at 6:30 pm - Continuation of Budget Adoption Meeting
Accessible via Zoom: https://bloomington.zoom.us/j/84259509733?pwd=WDNmdk4rbU8wWmJTRTQ5NFdna1Y0Zz09
Council Committee Interviews for Boards and Commissions
October 27, 2021 - Public Safety Committee at 12:00 pm
Accessible via Zoom: https://bloomington.zoom.us/j/87380590778?pwd=aHVjNkk0ZTlGYUtDVXVtTXQvTjhxUT09
Members of the public wishing to join virtual meetings may do so with meeting links posted above (which will be added as meetings approach). Public participants will be muted and will have video disabled. Public comment will be handled according to procedures to be announced by the presiding officer. In the event of too many participants or unforeseen technical or practical issues, meetings may be terminated and restarted to allow only councilmembers and relevant city staff to participate. The public may still access meetings by watching via Community Access Television Services or on Facebook here.
Statement on public meetings during public health emergency:
Under state law, the Council and its committees may adjust normal meeting procedures during a declared public health emergency. These adjustments may include:
- allowing members of the Council or its committees to participate in meetings electronically;
- posting notices and agendas for meetings solely by electronic means (on this page);
- using electronic meeting platforms to allow for remote public attendance and participation (when possible);
- encouraging the public to watch meetings via Community Access Television Services broadcast or livestream, and encouraging remote submissions of public comment (via email, to council@bloomington.in.gov).
Please check back on this webpage for the most up-to-date information about how the public can access Council meetings during the public health emergency.
Meetings are generally held the first four Wednesdays of the month at 6:30 pm. Council Meetings (Regular Sessions and Special Sessions) are meetings where official actions are taken (e.g. legislation is passed, legislation is amended, etc.). Council Committee Meetings are where legislation is discussed.
All meetings of the Council and its committees are open to the public. Agendas, notices and background material for these meetings will be linked at the Council's "Meetings & Documents" Page.