Page last updated on May 8, 2023 at 1:24 pm
Since 2016, the Hamilton Administration, in collaboration with City Council and the community, has helped coordinate an unprecedented series of advancements in Bloomington and has been noted or awarded for various city strengths. The Your City at Work series features several selected accomplishments. For a full list visit: https://bton.in/8vYDQ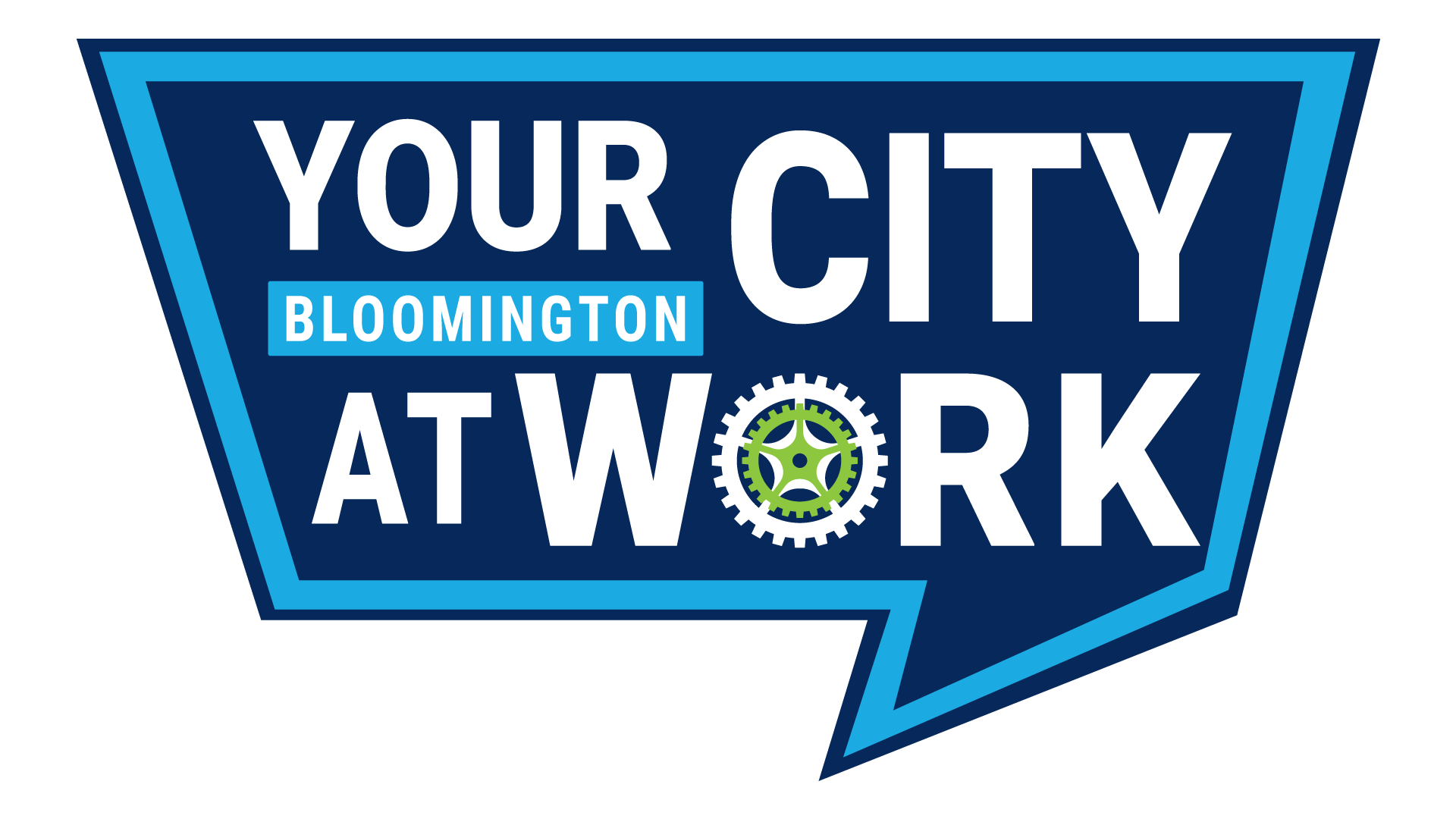 YOUR CITY AT WORK: SWITCHYARD PARK– After decades of planning, the City opened the newest city park project in 2019, Switchyard Park, a 65-acre park born from an abandoned railroad switchyard. Accelerate Indiana Municipalities (AIM) awarded Switchyard Park the 2021 Aim Community Placemaking Award. Learn more at: https://bton.in/cCd0l

YOUR CITY AT WORK: PUBLIC SAFETY– Bloomington is the only city in Indiana with a nationally CALEA-accredited police department and a top-rated ISO 1/1x fire department.
Bloomington Police Department was first awarded full Tier 1 law enforcement accreditation in July 2018 and subsequently received reaccreditation in July 2022. CALEA accreditation is considered the national gold standard in law enforcement accreditation and embodies the precepts of community-oriented policing. Of the 18,000 law enforcement agencies in the United States, only 5% are CALEA-accredited (https://bton.in/M~1Xp).
Bloomington Fire Department received the highest Public Protection Classification (PPC) from the Insurance Service Office, Inc. (ISO) in 2021. The City of Bloomington is one of four cities out of 1593 communities protected by a fire department in the state with a class one (1) rating, placing Bloomington among the top 0.2% of communities in the state and the top 0.5% in the nation (https://bton.in/sRxlD).

YOUR CITY AT WORK: CLIMATE ACTION –The City's first Climate Action Plan, adopted in 2021, seeks to reduce greenhouse gas emissions by 25% below 2018 levels by 2030 and reach carbon neutrality by 2050. The City commits actively to mitigating climate change and increasing our resilience through more efficient infrastructure and sustainable development, including solar power, trails as transportation corridors, innovative waste and wastewater systems, and $1.6 million in new annual funding directly to implement the Climate Action Plan. Learn more at: https://bton.in/d!xR8

YOUR CITY AT WORK: AFFORDABLE HOUSING– Since 2016, Bloomington has added, approved, or preserved nearly 1,400 units of permanently affordable housing (2,200 bedrooms). That compares to fewer than 100 in the ten years before 2016. A total of 5,609 housing units (11,000 bedrooms) have been added since 2016. In the coming days, we'll share details about several projects that comprise the 1,400 units. Learn more about the City's affordable housing efforts at: bloomington.in.gov/housing/affordable

YOUR CITY AT WORK: AFFORDABLE HOUSING AT KINSER FLATS–In 2019, the City of Bloomington and Centerstone held a groundbreaking ceremony for Kinser Flats on North Kinser Pike. Centerstone is the developer and owner of the 50-unit complex that provides 38 one-bedroom and 12 two-bedroom units of affordable permanent housing for families and individuals experiencing homelessness, substance use disorder, or co-occurring substance use and mental health disorders.
The Kinser Flats building design includes space for onsite recovery-focused supportive services for tenants provided by Centerstone and other community partners. Kinser Flats operates as a low-barrier facility guided by the Housing First harm-reduction approach, prioritizing housing as a basic foundation for life improvement. Learn more at: https://bton.in/YNdXn

YOUR CITY AT WORK: AFFORDABLE HOUSING AT B-LINE HEIGHTS–B-Line Heights Apartments, with 34 units, opened in 2019 on Rogers Street. B-Line Heights Apartments is in the Trades District with a mix of one-bedroom, two-bedroom, and three-bedroom units. All 34 units are affordable, with 32 units serving families at or below 60% of the area median income and two at or below 50% of the median income. Between a Housing and Urban Development (HUD) subsidy and low-income housing tax credits, B-Line Heights ensures an overall affordability period of no less than 30 years. Learn more at: https://bton.in/uhVKf

YOUR CITY AT WORK: AFFORDABLE HOUSING AT SWITCHYARD APARTMENTS–Switchyard Apartments, located at 1901 S Rogers St., opened in 2020, bringing eight new affordable prime-location apartments to Bloomington. In addition to Switchyard Park just to the east, Switchyard Apartments is close to the city's B-Line Trail, on a City bus line, and near community facilities, offices, and retail.
The new building includes six 1-bedroom and two 2-bedroom apartments for households earning 50 to 80 %of the area median income or below. Three units are reserved for clients of LifeDesigns, a local nonprofit serving people with disabilities. Rent includes water, sewer, and trash collection. The apartments include views of Switchyard Park from the backyard, individual unit climate control, and washer and dryer hookups. Energy Star appliances and other energy-efficient elements have been incorporated. Learn more at: https://bton.in/Q1cs3

YOUR CITY AT WORK: AFFORDABLE HOUSING AT SOUTHERN KNOLL–Southern Knoll, an affordable apartment community in downtown Bloomington opened in 2020, serving residents at 30 to 80% of Area Median Income (AMI) and those experiencing homelessness and/or with intellectual disabilities. Some units are reserved as permanent supportive housing for Beacon and/or Stone Belt clients.  
Southern Knoll offers 31 units that range from micro-units (compact apartments considered the rental equivalent of the tiny home) to three-bedroom apartments with shared amenities, including bike storage and laundry facilities. Residents share access to an adjacent community center, with a computer room, exercise room, community room, and offices for support services. Learn more at: https://bton.in/vt98_

YOUR CITY AT WORK: AFFORDABLE HOUSING AT EVERGREEN VILLAGE–Completed in 2018, Evergreen Village at Bloomington is a 115-unit affordable assisted-living community offering a full spectrum of services. The facility is licensed, certified, and regulated under state law as a Residential Care Facility (RCF) and is permitted to house seniors who qualify for Medicaid. Evergreen exclusively serves seniors who earn less than 60% of the area median income, approximately $26,000. 
With an emphasis on wellness and opportunities for engagement and mobility, amenities include co-located bistro and dining areas, an activity room and fitness facility, a theater, a library, a computer room, and on-site clinician and therapy facilities. Residents can also enjoy easy access to nearby shopping, restaurants, healthcare services, a bike path, and the Jackson Creek Walking Trail. Learn more at: https://bton.in/a0sof

YOUR CITY AT WORK: AFFORDABLE HOUSING AT RETREAT @ THE SWITCHYARD–Located next to Switchyard Park, Retreat @ the Switchyard is expected to open late 2023 and will provide a mix of supportive and affordable housing as well as market-rate units. Mayor Hamilton and RealAmerica held a groundbreaking ceremony on June 9, 2022, for the new mixed-income and mixed-use rental project.
Retreat @ the Switchyard will include at least 48 units dedicated to residents earning 30 to 80 % of Area Median Income (AMI), 10 of which will be reserved for individuals with intellectual and developmental disabilities, supported by Stone Belt, a local nonprofit organization. Each apartment will have modern amenities, free Wi-Fi, home office space,  and a patio or balcony; common areas will include office space and a conference room. Learn more at: https://bton.in/mJgGo

YOUR CITY AT WORK: DIGITAL EQUITY– Since 2020, the City's Digital Equity Grant Program has awarded more than $135,000 to support Bloomington-based nonprofit organization efforts to bridge the digital divide and increase digital resources for residents. Past recipients include Alexandra's Army, Area 10 Agency on Aging, Artisan Alley, Courage to Change Sober Living, Farmer House Museum/TechHeroes, Hotels for Hope, Monroe County Community School Corporation, Monroe County Public Library, My Sister's Closet, New Leaf New Life, Robin & Trisha's House, Inc, and South Central Community Action Program. Learn more at:  https://bton.in/-8Cq0

YOUR CITY AT WORK: BICYCLE FRIENDLY– Bloomington is Indiana's only gold-level bicycle-friendly community. Awarded in 2018 by the League of American Bicyclists, the Bicycle Friendly America program provides advocates and change makers with a roadmap and hands-on assistance to build places more welcoming to people who bike. The program is a tool for states, communities, businesses, and universities to make bicycling a real transportation and recreation option for all people, and it recognizes those doing it well. Learn more about the program at: bikeleague.org/bfa  Learn more about the City's Transportation Plan, adopted in 2019, at: https://bton.in/HUk3G

YOUR CITY AT WORK: HIGH-SPEED INTERNET– In 2021, the City announced a partnership with Meridiam (acting locally as Hoosier Networks) to bring open-access high-speed internet access to nearly every Bloomington resident. Simultaneously, the City launched a digital equity program, one of the country's most innovative broadband public-private collaborations, to help low-income and digitally-disadvantaged households access top-quality internet services. 
Eligible low-income residents may qualify for the Affordable Connectivity Plan (ACP) to get a symmetrical 250 megabits per second (Mbps) plan at reduced or no cost. The City and Hoosier Networks will together provide the "drop" connection to qualifying households.
Hoosier Fiber Networks, GigabitNow, and City will provide an update on the high-speed fiber project on Tuesday, April 4, at 2 p.m. in City Council Chambers at City Hall. Learn more at bloomington.in.gov/news/2023/03/30/5567  
Learn more about the Meridiam/City of Bloomington partnership at: https://bton.in/DhIMX  

YOUR CITY AT WORK: SOLAR– The City has installed solar PV systems at 31 City facilities–since 2018, more than 12.5 GWh has been generated (equivalent to 3.7 million lbs of coal). Learn more about the City's Climate Action Plan at: https://bton.in/d!xR8

YOUR CITY AT WORK: STREETS PAVED & POTHOLES FILLED–Since 2016, the Department of Public Works Street Division has paved 106 miles of city streets and filled 40,844 potholes using 77,716 tons of asphalt. The Street Division maintains, repairs, and oversees the City of Bloomington's 239 lane miles of public streets. See a pothole that needs to be filled? Report it online at bloomington.in.gov/ureport

YOUR CITY AT WORK: HUMAN RIGHTS CAMPAIGN INDEX– The City of Bloomington has earned a perfect Human Rights Campaign Index score for eight consecutive years. Bloomington is the only city in Indiana to achieve an 100% score. It is one of four cities in Indiana to be considered an "MEI All-Star," earning a high score in a state that lacks non-discrimination laws that expressly include LGBTQ+ people. Bloomington's scorecard is available online at https://bton.in/NhsF8, and the full 2022 Municipal Equality Index Report is available at https://bton.in/1k8B8.   

YOUR CITY AT WORK: ENVIRONMENTAL GLOBAL LEADER– In 2020, Bloomington was recognized as a global leader in environmental action and transparency, achieving a place on CDP's Cities A-List.  A global nonprofit that runs an environmental disclosure system for businesses and cities, CDP (formerly Carbon Disclosure Project) named 105 cities around the world to its A-List. Of the 850 cities that reported sustainability and climate data to CDP, only 12% made it onto the 2019 A-List. Bloomington is one of only seven cities in the Midwest to receive an A score, along with Indianapolis, Evanston, Ann Arbor, Cleveland, Columbus (Ohio), and Cincinnati. Learn more at https://bton.in/zjXW7.

YOUR CITY AT WORK: SMART WATER METERS–In 2020, the City of Bloomington Utilities (CBU) completed a yearlong project to upgrade its metering infrastructure. The smart meter technology enables wireless transmission of individual customers' water meter readings directly to CBU. The smart water meters collect multiple reads daily, allowing for better leak detection and improved customer service. With manual meter readings, leaks could go undetected for weeks, leaving customers responsible for paying expensive bills and/or resulting in property damage.  
An online portal allows customers to monitor their water use, set alarms, and diagnose potential problems in their plumbing systems by seeing the available hour-by-hour data thanks to the new metering systems. Automated readings also enhance CBU's ability to respond to infrastructure issues more efficiently. Learn more about the smart water meters at: https://bton.in/0jerE

YOUR CITY AT WORK: ADA CURB RAMPS AND SIDEWALKS–Since 2016, more than 547 ADA sidewalk ramps have been installed compared to 118 during the previous seven years. More than double the miles of sidewalks (13.65) have been repaired. The City's network includes 237 miles of streets, 29 miles of side paths, and  236 miles of sidewalks.

YOUR CITY AT WORK: REGIONAL CLIMATE CONVENING–In October 2022, Mayor John Hamilton and Columbus Mayor Jim Lienhoop hosted the first-ever Regional Climate Convening with 100 critical players from Bartholomew, Brown, and Monroe Counties from the private, nonprofit\educational, and government sectors.
The goal was to address the shared challenge that is climate change and explore preparation, adaptation, and mitigation measures. The informative and participatory event included remarks by both Mayors, panel discussions, break-out work, and a keynote address by Executive Chairman of Cummins, Tom Linebarger, a private sector leader in climate change responses. 
Three panels addressed distinct aspects of climate change, including the Impacts of Climate Change on South Central Indiana, the Current and Upcoming Landscape of Public and Private Climate Action, and the Next Steps for a Tri-County Partnership. Learn more about the October 2022 event at: https://bton.in/Xe4Lh
As a result of the Regional Climate Convening, Project 46 was announced in March 2023. More information about Project 46 will be shared in a later post.

YOUR CITY AT WORK: WI-FI IN CITY PARKS–As part of continuing efforts to improve digital equity in our community, the City launched free public Wi-Fi in two City parks in December 2022. Wi-Fi services are now available at Peoples Park and Waldron, Hill & Buskirk Park at speeds up to 140 Megabits per second (Mbps). Work is currently underway in four more parks, Bryan Park, Butler Park, Crestmont Park, and Seminary Park.  
Funded through the City's Recover Forward initiative using American Rescue Plan Act (ARPA) funds, the Wi-Fi in Parks project is part of the City's 2020 Digital Equity Strategic Plan, which aims to reduce digital inequities in Bloomington. Among other recommendations like expanding digital equity grants, staffing, and securing high-speed fiber-based internet service citywide (https://bton.in/o2k88), the plan calls for the City to evaluate strategically expanding Wi-Fi at City facilities such as public parks.

YOUR CITY AT WORK: PROJECT 46–On March 24, Columbus Mayor Jim Lienhoop, Nashville Town Manager Sandie Jones, and Bloomington Mayor John Hamilton gathered at the Nashville Town Hall and announced the launch and next steps of a bipartisan, cross-sector, multi-county effort to address climate change.
The new regional alliance, Project 46, named for the state highway linking Bartholomew, Brown, and Monroe counties, will identify and pursue solutions that effectively address our shared challenges and opportunities related to climate change.
During their April 12 meeting, the Bloomington City Council adopted a resolution (https://bton.in/d5UhV) indicating support for the alliance and committing to an initial three-year phase. The proposed resolution embraces four common goals:
Track and report greenhouse gas (GHG) emissions as communities and as a region; 
Coordinate local investments and leverage available state and federal funding opportunities, including, but not limited to, funding available through the Bipartisan Infrastructure and Inflation Reduction Acts; 
Set goals, advance initiatives, highlight successes and challenges, and promote best practices by engaging government, nonprofit, and private sector leadership; 
Produce an annual community report to demonstrate the activities and impact of these efforts and progress towards shared goals. 
Learn more about the Project 46 launch at: https://bton.in/H-zt9
YOUR CITY AT WORK: DILLMAN PLANT MODERNIZATION–Utilities completed over $23 million in modernization and capacity enhancements at the Dillman Wastewater Treatment Plant in 2022. The project replaced electrical switchgear, motor drives, pumps, blowers, and completely replaced all the control systems for the aeration in the treatment process. The improvements also included a new filter building with a new disc filter. Electrical and aeration improvements are estimated to reduce electrical usage by 15%. The Dillman Wastewater Plant celebrated its 40th Anniversary in 2022.

YOUR CITY AT WORK: TREE CITY–In 2019, the City completed an Urban Forest Study to identify the number, health, and diversity of our trees along City streets, in rights-of-way, and within public parks. The City's public tree population has increased by 56% in the last twelve years. The 2019 inventory records 19,013 public trees, up from the 2007 count of 12,169. In 1994, an inventory recorded 10,522 public trees. Learn more at: https://bton.in/G95Oo
The study also recommended 1,428 large-growing tree plantings aligning with the City's 2018 Bicentennial Bond commitment to plant or replace 1,400 trees. In 2022, 304 locations in four different project areas in Bloomington were identified to provide a more equitable urban canopy for all residents. Learn more at: https://bton.in/evHK6 Bloomington has been recognized as a "Tree City USA" by the National Arbor Day Foundation since 1984. 
YOUR CITY AT WORK: HIDDEN RIVER PATHWAY PROJECT–In October 2022, the City completed the Hidden River Pathway Project four months ahead of schedule and on budget. This ambitious project involved 1,875 feet of tunnel, 4,000 yards of concrete, 30,000 tons of aggregate, and 754,000 pounds of reinforcing material. This impressive amount of material was installed safely and efficiently and will route the hidden river through the downtown area and leave us better prepared for extreme weather events.  
The reconstruction project of the downtown stormwater infrastructure from 2nd & Washington upstream/northeast to 4th & Grant was launched by the City of Bloomington Utilities (CBU) in February 2021 and was contracted with Milestone Contractors, LLP. In addition to these stormwater improvements, sanitary sewer, and water main infrastructure was simultaneously completed to support Bloomington's vibrant downtown. The construction cost was just over $13,000,000, with funding from the 2019 stormwater fee adjustment for all CBU customers.