Page last updated on October 31, 2023 at 2:31 pm
Since electric scooter rental services started operating in Bloomington in September 2018, we've had another way to get around town and explore our parks and trails. At the same time, this new mode of transportation is posing challenges to safety, accessibility, and aesthetics in our city.
City officials developed an ordinance to regulate the use of electric scooters in Bloomington. We have also developed the following guidelines from our municipal code in order to promote safety, civility, accessibility, and order on our streets, sidewalks, and trails while enjoying this new mobility option.
Scooters may be used in the street. Riders using scooters in the street must obey the rules of the road, including stopping at stop signs and traffic lights, signaling turns, and following the direction of traffic.
 

Scooters may be used on multiuse trails, multiuse paths, and on uncrowded sidewalks outside the city center. Riders using scooters on trails, paths, and sidewalks must observe the rules governing bicycles on these same routes, such as:

Yield right-of-way to pedestrians,

Pass pedestrians at a distance of at least three feet,

Alert other vehicles and pedestrians in front of you with an audible signal before overtaking and passing them,

Do not suddenly move into the path of an oncoming pedestrian or vehicle, and

Give particular consideration to avoid startling visually impaired pedestrians.
Do not ride scooters on sidewalks or in crosswalks marked "Dismount Zone" in the center of Bloomington, on the following streets:

Fourth Street from Indiana Avenue to the B-Line Trail

Kirkwood Avenue from Indiana Avenue to the B-Line Trail

Sixth Street from Walnut Street to the B-Line Trail

Indiana Avenue from Fourth Street to Seventh Street

Dunn Street from Fourth Street to Seventh Street

Grant Street from Fourth Street to Seventh Street

Lincoln Street from Fourth Street to Seventh Street

Washington Street from Fourth Street to Seventh Street

Walnut Street from Fourth Street to Seventh Street

College Avenue from Fourth Street to Seventh Street

Waldron, Hill, and Buskirk Fountain Circle
Ride with courtesy, respect, and caution. Helmet use is strongly recommended.
 

Follow the rules you accept with the rental agreement. For example, riders must be 18 years or older, the scooter may be used by the renter alone, and texting or other distracting behaviors are prohibited while riding.
 

Park the scooter in a bike rack or in another lawful spot on public property that does not block the right-of-way, limit access for individuals with disabilities, risk damaging private or public property, or jeopardize public safety.
Riders who do not observe these guidelines may be subject to penalties in the form of fines consistent with state law and the Bloomington Municipal Code.  If we all make the effort to use scooters responsibly, these vehicles can enhance our mobility options and add to our fun in Bloomington for years to come.   
Do you know that any community members can report scooters that need to be removed from neighborhoods?  
Here's how to report an issue with each of the three types of scooters available in the city. 
VeoRide
Gather vehicle identifying information. If possible, record the scooter's identification number below its QR code by snapping a photo. You can find the QR code and identification number above the vehicle's digital display. 
If you cannot capture the QR code and/or identification number, try to record the vehicle's frame number, which consists of four letters or numbers. You can find the frame number at the bottom of a vehicle's stem.
Note the vehicle's location. If possible, include a street address or the nearest intersection.
Send an email to hello@veoride.com. In your email, be sure to include:

Any vehicle identifying information you gathered, like a photo of the QR code or the vehicle's frame number
Vehicle's location and a general description of the issue (E.g., the scooter is blocking an ADA ramp)
Make sure to note that you are reporting an issue in Bloomington, IN

Attach a photo of the vehicle you are reporting if possible.
When we receive your email, Veo's customer support team will immediately connect with the on-the-ground operations team. A technician in the area will be immediately dispatched to address the issue.
 Tips: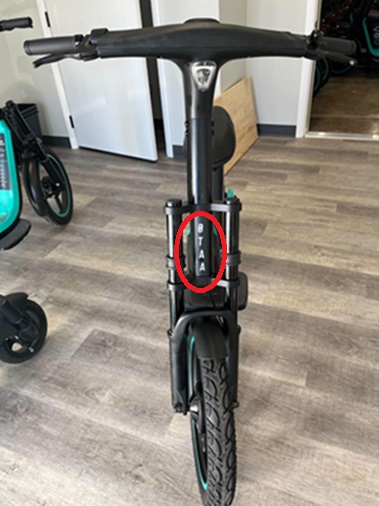 Including a vehicle's QR code and the identification number below will help our team locate the vehicle quicker
If that's not possible, try to include as much information as possible, like the vehicle's frame number or specific location
Other Ways to Contact Veo:  
Call +1 855 VEO-2256 to report an issue over the phone OR
BIRD 
Community Mode: Community Mode is accessible by clicking the yellow triangle with an exclamation point in the bottom left corner of the Bird mobile app. Click this button, and you'll find three separate options: report a "Badly Parked Bird'', "Damaged Bird," and "Contact Bird". This is the most efficient way to report the topics mentioned above to the Bird Team, and you do not have to be a rider to use this feature (you only have to have the app downloaded).
hello@bird.co: Our general support email address. Best for account/payment issues. 
Bloomington311@bird.co: Our Bloomington-specific email address. Like Community Mode, messages to this email address will go directly to our local operations team. It is best for scooters that need to be moved promptly. 
1 (866) 205-2442: Our 24/7 support line if community members want to reach out over the phone and best for account/payment issues
LIME
The main ways to report issues/get in touch with Lime are:  
Phone: 1 (888) 546-3345 
Email: support@li.me   
Website: www.li.me