Page last updated on April 27, 2023 at 8:59 am
History of the Bicentennial Tree Planting Project
Bloomington Mayor John Hamilton in 2018 announced a series of Bicentennial bond projects to invest in the future of the City of Bloomington.
See the news release: City of Bloomington Announces Sale of Bicentennial Bonds, Upgraded Credit Rating
Included in the Bicentennial bond was $800,000 to plant trees along streets and in public rights-of-way across the city. Potential planting sites were identified by Davey Resource Group in 2019 as part of a city-wide inventory of street trees.
See the news release: State of the Urban Forest Report Shows Surge in Number, Health, Diversity of City Trees
The initial identification of potential planting sites was based on above-ground conditions such as overhead power lines, width of the public right-of-way, existing trees, and other considerations.
What Areas Have Been Targeted for Tree Plantings, and Why
Click here to see a list of addresses of identified tree planting sites.
Urban forests across the United States are often unequally distributed, with higher-canopied neighborhoods linked with higher income and a higher percentage of white populations. To address gaps in Bloomington's canopy, the first phase of tree planting is focused in areas identified by both their environmental and socio-economic characteristics.
See U.S. Forest Service Vibrant Cities Lab: Equity & Unbalanced Distribution
See Indiana University Bloomington Urban Forestry Research Group: Environmental Equity and Urban Forests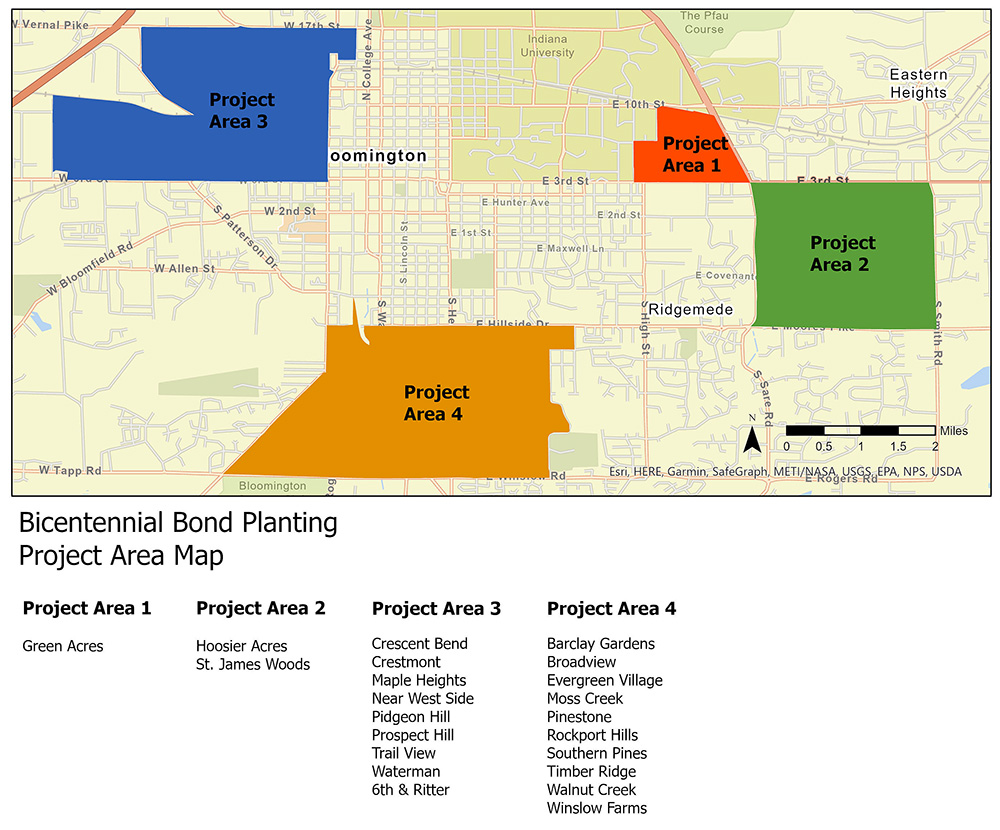 Four Bicentennial bond-funded project areas have been identified using a combination of data from Davey Resource Group's 2019 City of Bloomington Canopy Report (click here to see the Urban Tree Canopy Assessment Report created for the City of Bloomington by the Davey Resource Group) and the United States Census American Community Survey, including: Existing canopy, potential canopy, median income, and percent non-white population. Selection of the four project areas was corroborated by areas identified by American Forests Tree Equity Score mapping project of areas with lower tree equity scores. (click here to see the American Forests' Tree Equity Score Map for Bloomington)
Bicentennial Bond Tree Planting (Spring/Fall 2022 planting) Neighborhoods
Project Area 1: Green Acres
Project Area 2: Hoosier Acres, St. James Woods
Project Area 3: Crescent Bend, Crestmont, Maple Heights, Near West Side, Pigeon Hill, Prospect Hill, Trail View, Waterman, 6th & Ritter
Project Area 4: Barclay Gardens, Broadview, Evergreen Village, Moss Creek, Pinestone, Rockport Hills, Southern Pines, Timber Ridge, Walnut Creek Winslow Farms
Tree Planting Project Timeline
Winter 2021 - tree planting site evaluations, conducted via contract by Davey Resource Group
January 2022 - Request for quotes to potential tree planting contractors
February 2022 - Hold community feedback and information meetings, and finalize tree planting contracts
February 22 4:00 - 6:00 PM - Presentation of planting project contract to the Board of Park Commissioners -- Contract awarded to Davey Resource Group
February 28 - Deadline to receive feedback from adjacent property owners regarding tree plantings in neighboring rights-of-way and public tree plots. To submit feedback or questions, click here to fill out an online form for review by the city's urban forester.
April/May 2022 - Spring Tree planting begins
October/November 2022 - Fall Tree planting begins
November 2022 - 6-month post-planting visits for spring planted trees
April 2023 - 6-month post-planting visits for fall planted trees
November 2023 - 18-month post-planting visits for fall planted trees
April 2024 - 18-month post-planting visits for fall planted trees
What is a Right-of-Way?
In the City of Bloomington, public right-of-way street trees include both those located within separate designated tree lawns or planting strips, and areas within front lawns that do not have designated tree lawns. The width of public rights-of-way varies from location to location. The width shown in the picture may not be accurate for all sites in Bloomington.